Moving Truck Rentals
Moving day has never been easier than when you rent a truck from Cardinal Self Storage - North Durham. Our Durham, NC, moving trucks are easy to use and well maintained. We're even located close to making it simple to top off the tank before returning your truck. Our friendly staff will make moving into your new home easy and fast.
Take the stress out of moving with a truck rental from Cardinal Self Storage - North Durham. Get in touch with our staff today to find out more information.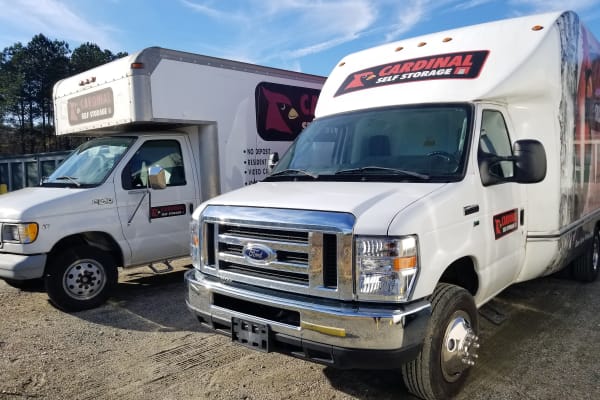 COURTESY TRUCK USE WITH STORAGE UNIT RENTAL
Cargo shifts in transit. Limiting movement is the key to successful loading. Your furniture, appliances and boxes will fare much better in transition if you follow a few tips from the professionals:
Draw up a packing plan
Make an inventory of the things to be moved and put it all on paper or in a document before beginning the actual work
A little planning will save time and stress, guaranteed
Cover everything with furniture pads or other coverings to protect corners and offer a buffer between pieces
Use tie-downs and belts wherever you can to keep items in place
Pack the van or truck in four parts, making sure one section is secure before moving on to the next
Pack the heaviest things first, up front nearest the driver
Pack furniture such as tables and chairs near the rear, along with unusually shaped objects
Get the details on a free truck and unit sizes from our Cardinal Self Storage managers in Raleigh. We will help with everything from estimating the size of an appropriate unit to offering furniture storage tips. Call us today.